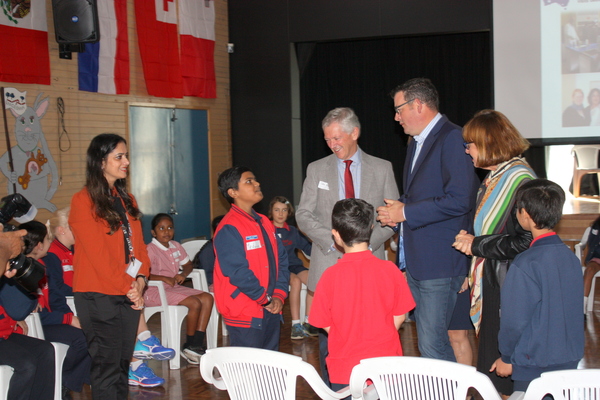 Rangebank Primary is a proud Cranbourne school that has as its motto, "Dream, Believe, Strive, and Achieve". This describes precisely Rangebank's aim. Our vision is – "Rangebank – Teach, Learn and Lead."
Rangebank is an acknowledged forward thinking school where students are well equipped to be productive global citizens and lifelong learners. We take the idea of global citizenship very seriously as we look beyond the boundaries of our 'fence' to the wider world. Our aim is to prepare our students to face this wider world with the skills to be comfortable and thrive. We value our multi-culturalism and have a wide range of ethnic background children attending our school. At Rangebank, we currently have over 25 different cultures and proudly acknowledge the differences and similarities.
Rangebank is the first government school in Australia to teach the Hindi language from Foundation to Year 6. We value teaching our students a second language and endeavour to equip our students with an understanding and language of India. Together with weekly videoconference sessions with our sister-school in Delhi, student exchanges, participation in cultural events, and our students are provided with many opportunities to experience other cultures.
Rangebank has a well-established successful transition program for new Foundation (Prep) students. The program caters for all students. Through this wonderful introduction, children feel well prepared for entry into Rangebank and school life.
Student's abilities vary, so our programs have been structured to allow for learning to occur on a personalised basis. This is so each child can achieve their highest level of success, particularly in Reading, Writing and Mathematics. How does it work? Children have regular assessments that determine student's strengths and areas of need. Students are grouped then with other students who have similar needs.
Our numeracy and oral language programs have recently been reviewed and strengthened. Reporting to parents/guardians is progressive throughout the year. Our students set goals for themselves to aspire too. This is beginning with the end in mind, a Leader in Me habit.
School productions, Nelson Mandela Day, Mothers/Fathers/Grandparents Days, Dream Days, Diwali festival, Harmony Day, Education week, Parent information nights, form a strong basis for community involvement.
Our school is focused on the whole child in all years of learning with 'The Leader in Me' program highlighting each child's leadership capabilities. This program based on Stephen Covey's, Seven Habits of Highly Effective People. A world-renowned program of personal development. The seven habits are – Be proactive; Begin with the end in mind; Put first things first; Think win-win; Seek first to understand then to be understood; Synergise; and Sharpen the saw (reflect, relax, re-energise). Every child can be a leader in different ways and at different tasks.
Rangebank is a cooperative learning school. Cooperative learning is a technique that allows students to learn from each other and gain important interpersonal skills. This is an important skill for our students as they move through their schooling years and beyond. Our experienced teachers and teacher aides have been trained in the use of cooperative learning, which is practised in each grade.
We believe that learning should be engaging, purposeful and challenging. We aim to develop confident learners, who take ownership of their learning and are proud of their achievements. Why? Because we believe that every child can achieve!