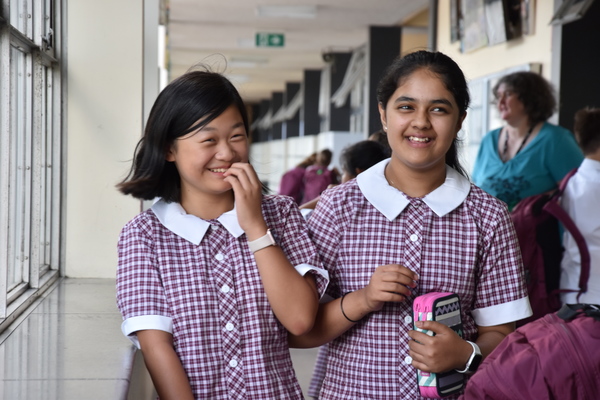 Learning is our focus at Kew High School. As a professional learning community we involve students, staff, families and the wider community in the journey to enable our students to become young adults who are equipped with the skills, abilities, knowledge and values to participate in a rewarding future. We foster in our students the capabilities that will enable them to take their place in society, to be able to lead fulfilling lives, and to make a positive difference.
Kew High School provides a safe and secure learning environment which:
is well maintained, well-resourced and functional;
stimulates an interest in learning and caters for mixed abilities;
encourages respect for and pride in the school;
enables all students to participate in a wide range of activities;
fosters self-confidence, effective communication, respect for self, others and the wider community;
values learning and diversity;
fosters and promotes optimum student and staff well-being and
where students feel valued, listened to and connected;
Since 2012 Kew High School has led state education in Information and Communication Technologies (ICT) with the introduction of our QTablet program. The QTablet program is a 1:1 device program where every student has access to a Tablet PC. Our QTablet program supports 21st century learning and promotes an environment that increases student engagement, collaboration and organisation.
Kew High School also provides a range of co-curricular programs designed to engage students and build a lasting connectedness to the school.
Engagement and Enrichment
Our comprehensive Extension and Enrichment program includes such pursuits as: debating and public speaking, the Science Talent Search, Da Vinci Decathlon, Mathematics Enrichment Program, Tournament of Minds, Science Drama, the World Team Challenge, Leadership Development Courses, Chess Club, Computer Programming Club, Lego Club, 3 in 6 Film Making Competition, Production bi-annually, Ski Day Trip and the Alpine School.
The Music Program
The music program is vibrant and well established and offers students a wide range of experiences learning to play a musical instrument and performing as a part of the Concert Band, music ensembles, jazz band and rock bands. Brass, woodwind, string and percussion instruments are offered, in addition to piano, vocal training and Chinese instruments.
The Sports Program
The focus of the sports program is participation at all levels and aims to provide positive outcomes for students, fostering school spirit, pride and connectedness to the school. Sports programs offered include: House Sports, encompassing swimming, athletics and cross-country running; inter-school sport through our affiliation with School Sport Victoria; and other sporting pursuits such as cycling, mountain bike riding and snow sports. Kew also has an outstanding tradition in Volleyball and conducts a specific year-long program.
Further information about the school, its curriculum and school programs can be found on the school website located at www.kew.vic.edu.au . The school's prospectus can also be collected from the General Office at the school, and school tours for prospective parents began in mid-February and will run until mid May. Dates and times are located on the school website (under the Our School tab) and bookings can be made online. A parent information evening for prospective parents will be held at the Renaissance Theatre on the school campus on Tuesday, April 2nd 2019 at 7.00 pm.