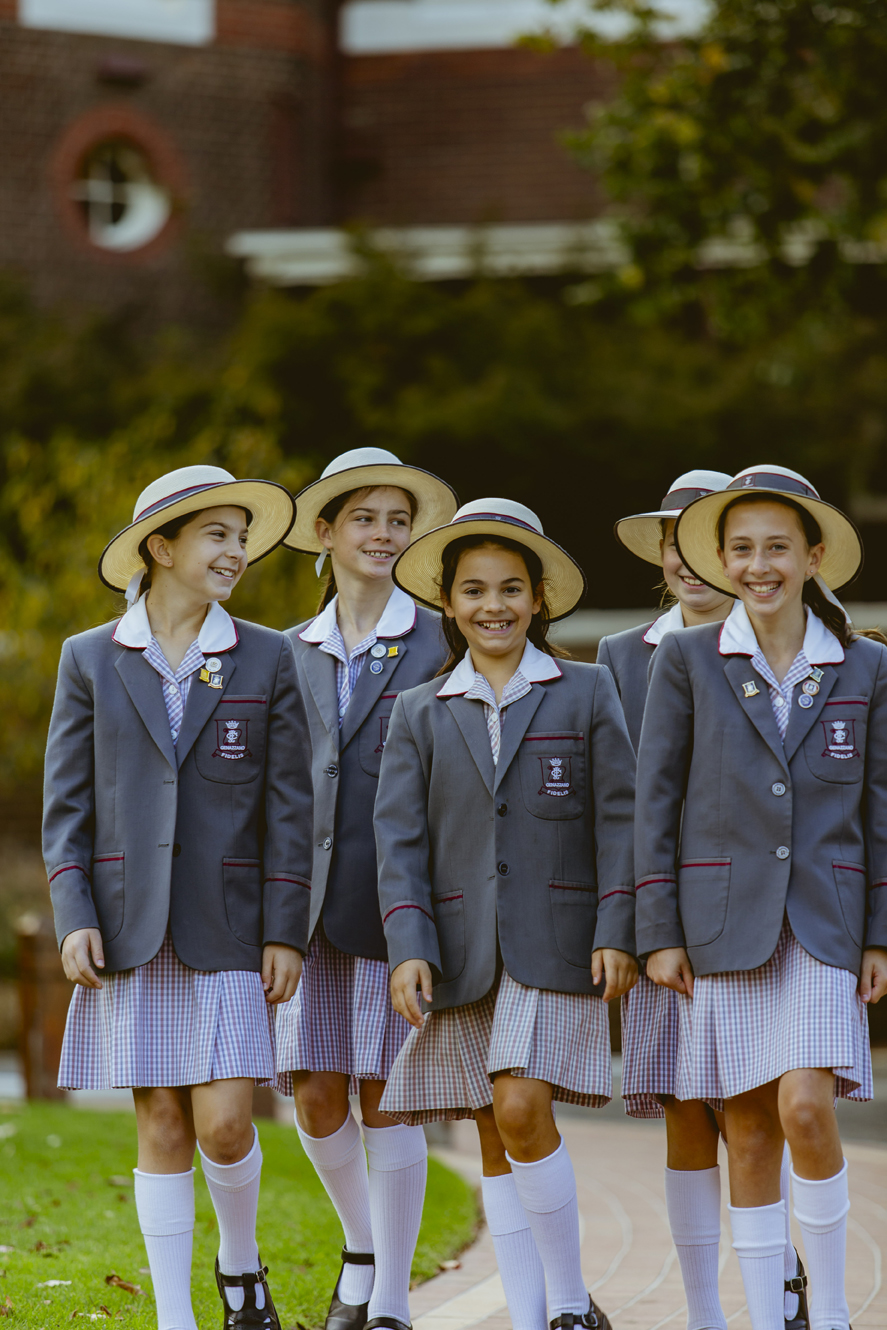 Genazzano FCJ College is a Catholic day and boarding school, located in Kew, the same site that was originally secured by the 12 founding Sisters, Faithful Companions of Jesus, who set sail from England 130 years ago to meet the growing demand for Catholic education in Australia. Today, almost 1000 students from co-educational ELC to all girls Prep to Year 12 attend the College.
Our vision encourages our students from kindergarten to VCE to approach life with optimism, to be creative learners looking for ways to contribute to society, and to be actively engaged with issues of social justice. Our girls-only environment from Prep to Year 12 enables each student to take intellectual risks and focus on achieving her personal best across a wide range of subjects and pursuits, including a very broad curriculum, quality religious education, diverse co-curricular activities and social justice programs.
Our exceptional facilities are surrounded by beautiful park-like gardens, which work to immerse students in a unique and inspiring learning environment. Our students are located on a single campus which offers ELC, Primary and Secondary students easy access to specialised facilities.
Co-curricular Program
Genazzano is home to an outstanding co-curricular program, with over 130 unique opportunities available, covering the breadth of sport, music, art, drama, technology, maths, creative writing, languages and social justice. Our co-curricular program caters for our students' diverse abilities and offers them opportunities to form life-long interests outside the academic arena. For the second year running, Genazzano has been named finalist in the Best Co-Curricular Program for the Australian Education Awards.
Year 5 and 7 Transition
Transition from Primary School to Secondary School can be accompanied by mixed feelings of excitement, anticipation and sometimes a sense of worry about the unknown. We work collaboratively with families to make the transition to Year 5 and Year 7 at Genazzano enjoyable and successful. Gen girls are supported at every step of the way as they explore their new school, meet their teachers and new classmates and enjoy rich and diverse learning experiences.
Why transition to Genazzano in Year 5?
Many families will be considering the difficult decision as to whether to transition their daughters across to Genazzano at either Year 5 or Year 7. At the College, our Year 5 students are offered diverse possibilities for learning and develop both independent and collaborative working skills. Our Year 5 students are housed in the multi-level D'Houet building which allows the students to utilise the specialist spaces available to our senior students. Having the opportunity to immerse themselves in these spaces allows them to settle into the life and routine of a Gen girl, enabling a very smooth transition into Year 7 and the Senior School.
Our Year 5 students are offered extensive opportunities across a diverse range of interests including music, sport, the arts, drama and social justice. A two-year fully funded music program is provided to the Year 5 and 6 students to learn an instrument in small groups, as well as belong to ensembles and perform alongside our experienced senior musicians. There are many leadership opportunities available, as well as participation in our compulsory after school sport program that gives students the chance to compete on a friendly basis in a variety of sports.
Supporting our Students
Our Companionship Program in Years 4, 6, 9, 10 and 11 invites our students to go beyond their comfort zone to spend time with members of the community who need support in one way or another. Participation in the Companionship Program enables students to develop their confidence and be challenged in a supportive environment, as well as making a positive contribution to our broader community.
Genazzano's innovative Performance Psychology Centre employs world's best practice to promote wellness, resilience, development and optimal functioning.
Our GenStar program, run on a fortnightly basis, supports the Genazzano mission to develop the whole person. Focused on building resilience, thinking for peak performance and a safe and healthy approach to life, the program is underpinned by robust theory and research.
A Genazzano education encourages students to view the world critically, to be discerning in their decision-making and, most importantly, to view learning as a lifelong journey.