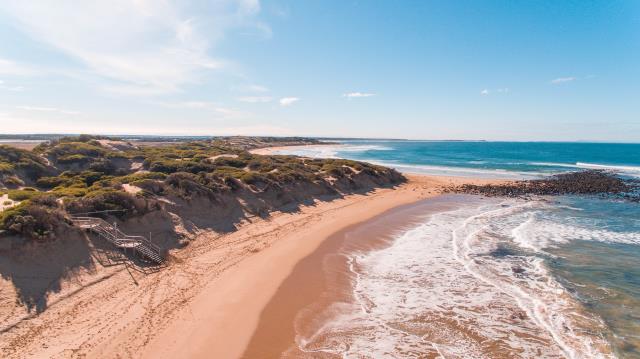 Reason 1: Dining with a capital D
Fact: This region is home to some of Australia's best regional dining. You should definitely try IGNI (you really should), the place that's ignited Geelong's dining scene. Hot on its heels is The Greek Customs House, raising the stakes for waterfront dining and leaving everyone wanting more. Further proof is found beyond Geelong at a cluster of tantalising winery restaurants – Jack Rabbit Restaurant, Oakdene Vineyards Restaurant, The Shed Restaurant at Terindah Estate and Provenance Wines.
Reason 2: Too cool for school
The best part about Geelong's manufacturing past is that the converted industrial spaces are perfect for hip cafes, bars, restaurants, accommodation and galleries. The old tech school is now swish apartments, while the former woollen mills are now milling with ale lovers at Little Creatures Brewery and White Rabbit Brewery & Barrel Hall. On the Barwon River, the Old Paper Mills is now a bustling art and
culture precinct, and Boom Gallery occupies another wool mill.
Reason 3: Laneway culture comes to the Big G
Geelong's Little Malop Street is the new 'it' address, home to coffee spots, cellar doors and hip food joints. Bringing it to Little Malop is the always-buzzing Pakington Street, where you'll find King of the Castle, Zigfrids Dining Hall & Bar and Geelong Fresh Foods.
Reason 4: Life's a beach
Sand between your toes, salt on your skin. 
They're the sensations memories are made of, and they don't get much more memorable than summer days on the Bellarine Peninsula. 
Surfers vie for the waves at Thirteenth Beach or Raffs Beach in Barwon Heads, and beginners get the lowdown on hanging 10 at Ocean Grove with Great Ocean Road Surf Tours, Go Ride A Wave or Sea Earth Adventures. Ocean Grove and its pristine beach is also one of the best spots for good old-fashioned family beach fun, but then again there's the mouth of the Barwon River in Barwon Heads for a bit of that, too. Plus the rock pools at Point Lonsdale and Portarlington. Don't forget to Slip Slop Slap.
Reason 5: All about the bounty
If the wines are anything to go by, the soil in this part of the world sure knows how to grow good food. So do the farmers and gardeners, of course. So grab a copy of the Bellarine Taste Trail map and embark on a lip-smacking gastronomic journey throughout the region.
Reason 6: Nothing to wine about
Moorabool Valley is where it's at for wine. More than the quaint villages, rolling hills and beautiful scenery, it's the cluster of cool-climate wineries making fine drops from the vines first planted by Swiss immigrants in 1842.
Don't miss Clyde Park Vineyard and Bistro, Lethbridge Wines, Moorabool Ridge Vineyard and Austins & Co.
Reason 7: Watery paradise
With all that spectacular coastline as the backdrop to your Geelong and Bellarine days, there's no surprise that lots of the fun is water-based. Join Scubabo Dive Victoria on a dive down to the ex HMAS Canberra, or splash about where the dolphins do with See All Dolphin Swims. Cruise between the Bellarine and Mornington Peninsula aboard Searoad Ferries, or catch a bite with Gone Fishing Charters. Reason Fore!
Well, Reason 8 really, and it's golf. 
Why not, when four of Australia's best golf courses are found on the Bellarine? Tee off at Curlewis Golf Club, Barwon Heads Golf Club and the two courses at Thirteenth Beach Golf Links. Venture over to Queenscliff, Portarlington and Point Lonsdale for more golfing action.
Reason 9: Wheely exciting adventures
Off-road or training wheels, Geelong and the Bellarine have you covered for cycling fun. The 50 kilometres of track makes You Yangs the go-to spot for mountain biking, while the 35-kilometre Bellarine Rail Trail is a more gentle family ride between South Geelong and Queenscliff. For the more serious cyclist there's the Cadel Evans Great Ocean Road Race in Geelong every January.
Reason 10: All about the family
There's all ages fun to be found all around Geelong and the Bellarine, starting with Geelong's thrilling waterfront. Kids adore the restored Geelong Carousel and the diving boards at the historic Eastern Beach promenade, and there's endless delight in meeting the characters on the Geelong Waterfront Bollard Trail. Further afield is the wildly popular Adventure Park, and holiday and caravan parks abound to prove that old-school, no-frills family holidays are timeless and magical.