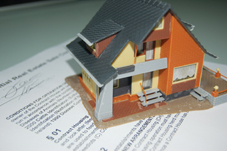 Research shows skyrocketing house prices in popular school zones
LOCATION, location, location – it's no longer about how big the house is, or the price for that matter, as many families in Victoria are placing their bids and packing their bags to set up shop near the school of their choice.
Real estate agents have been using popular high schools as an advertising tool when listing properties in several Victorian suburbs, with Mount Waverley Secondary College making the top of the popularity list.
According to the research department at REIV, agents have highlighted Mount Waverley Secondary College 33 times in the past year when advertising listings in the surrounding residential areas.
Glen Waverley Secondary College was mentioned 29 times, with Frankston High School, Balwyn High School and Coatesville Primary School in Bentleigh East rounding out the top five.
And the houses are coming at a price. REIV research found that housing prices inside the Glen Waverley Secondary College zone is a whopping 23 per cent higher than houses listed outside the school zone, with the average price for a four-bedroom dwelling costing $1.41 million as compared to $1.14 million.
The average price for a threebedroom house in Mount Waverley, near the Mount Waverley Secondary College is $1.26 million, almost eight per cent higher than a threebedroom house outside of the school zone.
In Frankston South and Frankston, families are forking out an average of $487,000 for a three bedroom house within the school zone, while others willing to buy a house outside the zone are paying an average of $446,000, with a difference of 9.2 per cent.
The skyrocketing house prices don't seem to be a deterrent for many families who are more than happy to splash the cash to be near their school of choice.