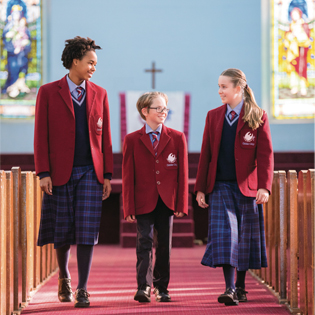 Providing the Learning That Matters
An Education Beyond Measure
The central aim at Christian College Geelong is to provide our students with 'The Learning That Matters'. Our goal is to help students identify fully with God's purpose and meaning of their lives – so they can directly contribute to making our world a better place. At our College, we call this doing 'good work' – and along with our five core values of Faith, Grace, Hope, Love and Truth – this provides the foundation for our Vision Statement:
'At the end of their journey at Christian College, our students will be ready to make a positive difference to the lives of others, through 'good work' that is excellent, ethical and engaged in local, national and global contexts.'
Christian College Geelong welcomes enrolment enquiries and provides personal, daily tours by appointment at all our campuses across Geelong, Torquay and the Bellarine Peninsula.
Williams House
Kindergarten & Day Care in 2019
Butterfield House
Kindergarten & Day Care
Junior School – Belmont
Prep to Year 4
Surf Coast Campus
Prep & Year 1 in 2019
Middle School – Highton
Year 5 to 9
Bellarine Campus
Prep to Year 9
Senior School – Waurn Ponds
Years 10 to 12
www.christiancollege.vic.edu.au