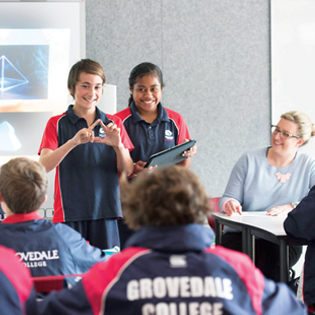 Grovedale College is located in a semi-rural setting serving the southern suburbs of Geelong, together with the rural and surf coast communities to the south, east and west. Students at Grovedale College in Geelong now have access to exciting new learning spaces including an arts/technology complex and a multimedia/music centre. These environments encourage participative learning so that students and teachers can work together and inspire each other.
Students and teachers are enjoying using these learning spaces and are fully utilising the flexibility for individual, small group, class and multiple class activities. The high quality facilities at our school enable us to enhance our programs and deliver an exciting, challenging and fulfilling experience for all our students
Grovedale College provides students with a vibrant and comprehensive curriculum as well as offering them the opportunity to participate in a wide range of activities including debating, chess, Tournament of the Minds, the State School Spectacular, sporting opportunities, the Arts Festival and an overseas language experience.
The medium size College provides students every opportunity to excel in their chosen area of study, and to explore and develop skills that will equip them for life-long learning.
In 2019 the College will be opening the new Performing Arts and Gymnasium for the school community. Over $7.5 million has been spent on a new 400 state theatre, double court gymnasium, new kitchen facilities and canteen.
Enquire about our excellent scholarship opportunities available for students commencing.