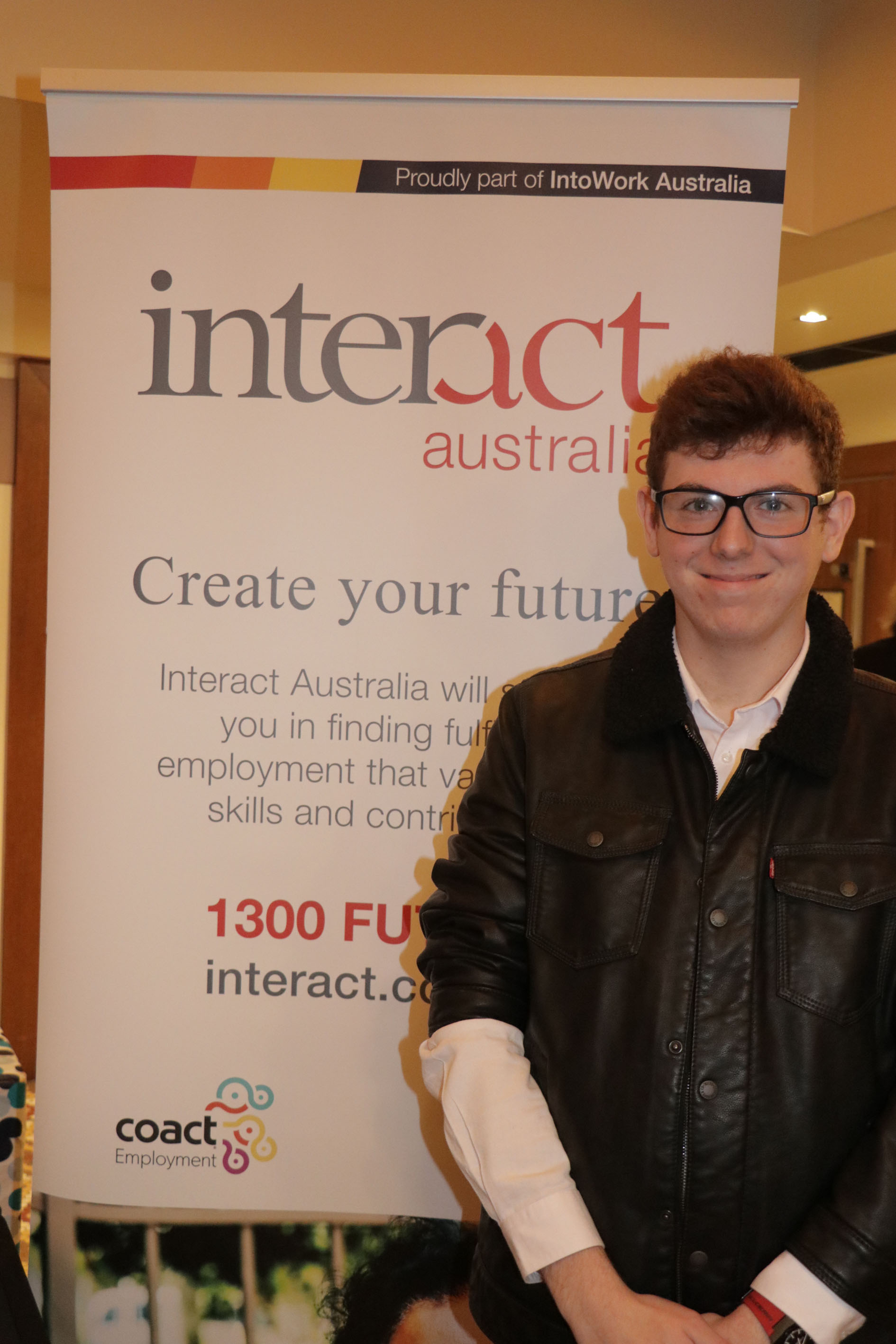 With over 25 years of experience, Interact Australia work to promote social inclusion, health and wellbeing by empowering people to achieve their full potential.
As a values based not-for-profit organisation, we champion and support people with a disability in their choices, offering a range of person-centred supports, matched to meet unique circumstances and individual needs.
Interact offer both Individual support services (NDIS) and Disability Employment Services (DES) tailored to specific needs and future goals.
Meet one of our participants Sammy (pictured), who has a mild intellectual disability and epilepsy. Sammy joined Interact to help him transition from secondary school to an employment pathway. Sammy had a passion for woodworking so with his Recruitment Partners support, he secured a work placement with Timbercon. Sammy worked hard while learning the job, so Timbercon agreed to ongoing employment, and he has now started a traineeship. Interact continue to support Sammy in the workplace and he couldn't be happier.
Sammy says; Interact gave me an opportunity to do a traineeship with Timbecon. They understood what I was into and when I went there I just went, like, mate – this is perfect! The amount of support they give me it's just, wow, they've been helping me a lot!"
Joe, Sammy's dad has been thrilled with Sammy's new career and say's "Interact give you all the support that is required but as a father… They do such a wonderful job and it's overwhelming and fantastic."
If you have funding under NDIS or TAC, we provide a range of individualised support services for people with cognitive, psychosocial and physical disabilities including;
Assistance with Daily Living
Personal care supports.
Participation in community, social and recreational activities.
Development of daily living skills.
Assistance with independent travel and transport.
Assistance to go on holiday.
School Leaver Employment Supports (SLES)
If like Sammy, you would like support in finding fulfilling employment that values your skills and contribution, our Disability Employment Services (DES) is for you. Support includes;
Career Planning and Preparation
Goal Setting
Skills and Abilities Identification
Resume and Cover Letter advice
Skills Development
Interview skills coaching
Confidence building
Access to training
Job Search Support
Introduction to employers
Work Experience placements
Connecting you with apprenticeship centres, labour hire organisations and industry groups
In Work Support
On the job training
Special equipment for the workplace
Advice on workplace issues
Interact support people to create futures by focussing on strengths and skills development for social and economic inclusion. We are proudly part of IntoWork Australia, a national group of ten businesses, opening doors to apprenticeships, training, employment and support.
Living with a disability and looking for individualised supports or disability employment services? Create your future, focussed on your skills, abilities and goals.
For more information and discuss eligibility call 1300 FUTURE (388 873) or visit our website interact.com.au.