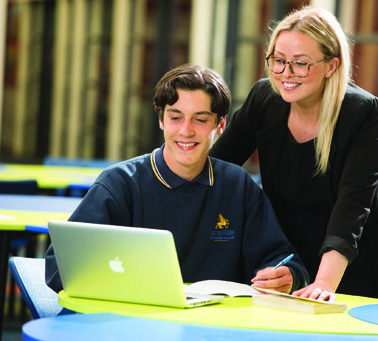 Yarra Hills Secondary College is a multi-campus government secondary school in the outer eastern suburbs of Melbourne, Victoria Australia. We have two campuses, a year 7 – 10 Campus at Mt Evelyn and a Mooroolbark Campus with both year 7 – 10 and senior (year 11/12) precincts on the one site. Current enrolments are around 900 students and have been rising over the last four years.
The Mt Evelyn Campus typically accepts students from the local Mt Evelyn area, nearby Lilydale, Silvan and towns further down the Warburton Highway in the Yarra Valley, including such areas as Wandin, Seville, Woori Yallock and beyond. Students attending this campus progress to the Mooroolbark Campus for their senior studies. Bus transport is made available to do this.
The Mooroolbark Campus directly serves the Mooroolbark, Lilydale, Kilsyth, Montrose, Croydon and Bayswater areas. Direct local transport exists linking each of these areas to the campus through either the Cambridge Rd/Hawthory Rd bus stops at the rear of the school or Hull Rd and Mooroolbark Station near the
wmain entrance.
Yarra Hills has an extensive online curriculum available through the use of 'Moodle', which is accessible to staff, students and parents. This provides students with 24/7 access to classwork, revision and assessment materials. As well as providing a differentiated curriculum to challenge students at all academic levels, Yarra Hills has also created an online extension program that allows students who are identified as 'well above' standard levels to undertake further instruction in a series of rich, open-ended learning tasks.
With the recent opening of the Yarra Ranges 'Tech School' Discovery Centre at Lilydale Lakeside, Yarra Hills has been one of a select group of schools to help develop and access specialist programs in STEAM (Science, Technology, Engineering, Arts, Mathematics) available on the site.
Yarra Hills is renowned for providing a wide selection of pathways for all students, successfully offering a large complement of VCE studies, with students in the most recent graduating group receiving placements in a large range of post-secondary institutions, including the coveted Medicine and Law.
VET (Vocational Education & Training) and VCAL (Victorian Certificate of Applied Learning) School Based Apprenticeship Training is also available, with Yarra Hills a founding member of the atEAST currently provides work for around 250 students from 10 schools across the Eastern Region of Melbourne. Yarra Hills' students in this program regularly receive industry awards for excellence.
Yarra Hills has an extensive Performing Arts program, including several highly successful Concert Bands led by the Director of the Australian Youth Band, Mr Richard O'Toole. These groups perform regularly across the state and in alternate years undertake an international tour. Our Music Group recently travelled to New Zealand. Additionally, we have singing troupes and an excellent annual College Production which involves a large number of students.
The Outdoor Education Program is also renowned throughout the wider community, providing students the opportunity to experience learning beyond the classroom. The College has its own buses, canoes/kayaks, diving/snorkelling gear and a full set of camping/hiking equipment.
A Scholarship Program also is offered at Year 7 level in the areas of Academic, Performing Arts, Visual Arts and Sporting Excellence. Applications for these are available through the Campus Offices, or at our College Information Nights.