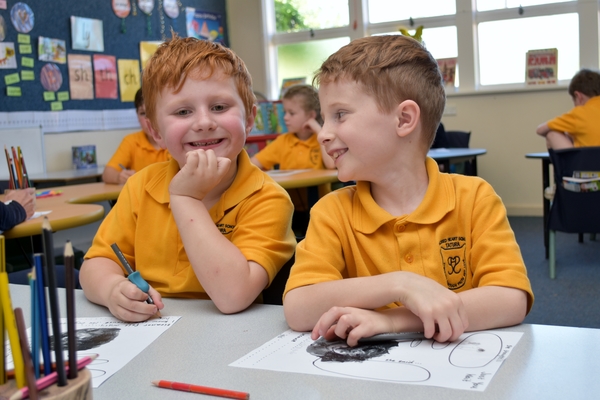 For well over a century families throughout central and northern Victoria have enjoyed the privilege of Catholic Education for their children. In modern times, the provision of Catholic Education has expanded due to increasing demand.
Catholic Education Sandhurst spans central and north eastern Victoria, providing Catholic Education to over 18,500 students in 56 educational settings across the diocese, including primary, secondary and specialist learning settings. The Diocese includes the major regional areas of Bendigo, Echuca, Shepparton, Wangaratta and Wodonga as well as many vibrant smaller communities within the diocese border which extends from Kerang in the States North West, to Corryong in the North East.
One of the key features of Sandhurst Schools is that they strive to be places of faith, of academic excellence and spiritual formation, exposing students to the beauty of The Arts and to the importance of social justice and global issues. Our schools offer families a strong curriculum with a full range of subjects and pathways for all students; with Catholic identity at the heart of all educational endeavours and the broader life of the school. A focus on literacy and numeracy is paramount to the success of students in Sandhurst schools and contributes to building a culture of school improvement and performance.
The theme for Catholic Education Sandhurst in 2017 is 'Witnessing and being our best for Jesus'. This theme challenges our school communities to look inwardly and to seize opportunities to be greater places of faith as we engage in the mission of the Church.
The Bishop of Sandhurst, Bishop Leslie Tomlinson believes that Catholic Schools play an important role in the evangelising mission of the Church. Catholic schools, together with other Catholic agencies within the diocese, are intimately involved in spreading the Good News.
"The person of Jesus Christ is at the centre of all our educational endeavours, All who work in Catholic education seek to make Christ known and loved," said Bishop Tomlinson.
Flexible learning settings situated in Bendigo, Shepparton and Wangaratta cater for young people who are struggling to find their way in mainstream schooling. These exceptional programs are re-engaging students and providing hope and a future for our most vulnerable. Many graduates go on to vocational training, employment or return to mainstream schooling.
Catholic Education Sandhurst is committed to The Arts through an established partnership with a3-Australian Arts Alive, a branch of the Australian School of Performing Arts. Recognised as one of the premier providers of performing arts experiences in the country, the Australian School of Performing Arts ensures that Sandhurst students are exposed to a high quality Arts program. Music teachers throughout the diocese benefit from professional learning opportunities which creates classroom learning experiences for all students.
As we look forward to all that 2017 will bring we reflect on the importance of community, of the ability to come together in times of crisis and to celebrate in moments of great joy. Our schools are important places of hope and good learning, where students are nurtured and challenged; and where teaching and learning is inspired by the Catholic story.