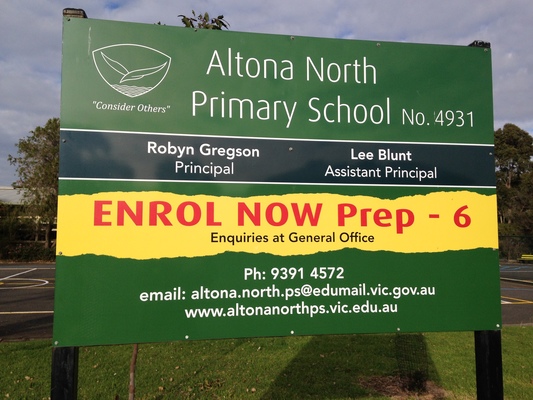 Altona North Primary School prides itself on being an open and friendly school. Parents are always welcome to visit and to take a guided tour of our excellent classroom and specialist programs. These include Art, Music, Performing Arts, Physical Education, Library and ICT. Our outstanding facilities and programs are open for observation all year round.
Our facilities include bright classrooms, a Library, Computer Lab and an Art and Craft Room plus an indoor Physical Education, Performing Arts and Music Facility. The school also offers a before-and-after-care program, a holiday program and a canteen.
Altona North Primary School also prides itself on having excellent staff and a strong focus on having a close working relationship between students, parents and staff. We have environmental education areas, extensive outdoor play areas, adventure playgrounds, a fitness and athletic track along with large shaded areas and spacious gardens.
Our inclusive curriculum aims to develop the whole child academically, socially and emotionally. We challenge students to raise their learning standards in all areas to the highest possible level.
Our school has an active Parents and Friends Group, an informed School Council and very experienced staff. Our involvement in curriculum goes well beyond the school: Wakakirri, Interschool Sports, Bike Education, an Intensive Swimming Program, Science and a range of other programs and initiatives.
All members of our school community aspire to our school values – "Respect, Excellence, Acceptance, Community, Honesty".