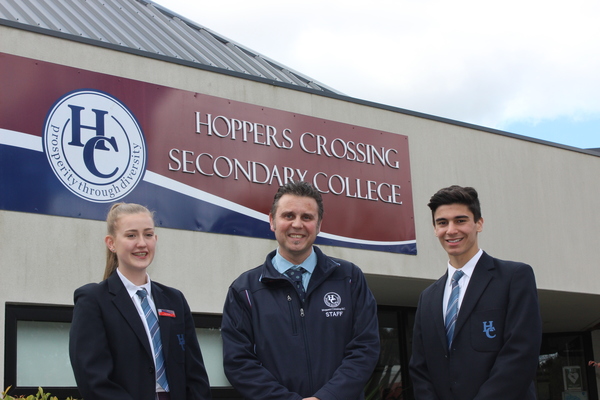 It is with immense gratitude that I recently accepted the Principalship of Hoppers Crossing Secondary College. Having been the Assistant Principal here for the past 14 years, I have come to know and love the College community.
I proudly lead a dynamic school, whose students are presented with boundless opportunities throughout their schooling journey. I place great emphasis on developing innovative and challenging educational programs and I am totally committed to continuing to improve the life of each student enrolled with Hoppers Crossing Secondary College. My goal is to see each student become a happy, self-confident, and knowledgeable lifelong learner who can demonstrate independence and a sense of career direction. Ultimately I want to see each becoming a worthy, contributing member of our community.
At Hoppers Crossing Secondary College we develop students who are competing at the highest levels possible in the state across a range of areas. I am proud to see Year 12 students consistently achieving Study scores of 40+ and ATAR scores over 90, giving them access to a range of career pathways and tertiary education options. In addition to this, each year, the College has a number of students choosing to undertake a university course whilst completing their Year 12 studies.
Outside the classroom, students are offered a range of opportunities including, but not limited to performing arts, where our students have been nationally praised for their skill and professionalism. Our winning record at the Wakakirri Performing Arts event is testament to the dedication and talent of our staff and students. Groups of students annually represent their school and country with three oversees learning experiences in China, Italy and California, engaging in cultural exchange and leadership opportunities. Closer to home the leadership qualities, evident in Hoppers Crossing Secondary College students, are cultivated with successful contributions to many events from local youth forums and public speaking programs to interschool debating and State Youth Parliament events. The vibrant sporting program offers the chance for students to compete in a wide range of sports, with indiviuals and teams representing the College and achieving success at regional and state levels.
I invite you to attend one of our open days in 2019 on Tuesday March 5th or Sunday May 5th to find out more and take a tour of the College.
Keith Halge