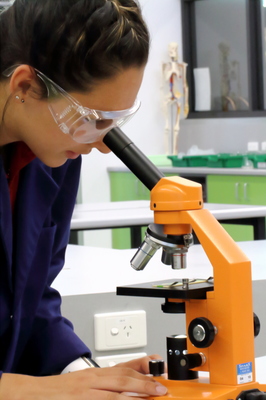 At our College, we are committed to a first-class education that encourages its young people to develop the skills required to thrive in an ever-changing global community.
For our young people to achieve at a high level, they need to be supported by their community – students, staff and parents. At Officer Secondary College, we foster strong, positive partnerships that put the student at the centre. We believe that learning is maximized when it takes place in an environment enriched with high expectations, personalised learning, challenge, inclusion and support.
We value academic pursuits, and take pride in helping our students to develop solid core values, and an appreciation of the world around them. We encourage students to be inquisitive and think critically, be creative, view issues and problems from a range of perspectives and to see learning as an ongoing adventure. We promote and cultivate independent thought and the building of character. This enables students to contribute to their communities in a meaningful and positive way. Our students are supported to expound our college values – Excellence, Inclusion, Respect, Creativity, Critical thinking and Global Citizenship – and uphold our College's motto, "Learning Together; Learning to Lead; Together we Inspire."
We firmly believe in the capacity of young people to change the world, and the enormous role education has in influencing lives and providing opportunities for a successful future. We look forward to discussing how our College and its community can support your child in their educational journey.
Select Entry Programs
At Officer Secondary College we strive to cater for all students within our thriving learning community. Officer Secondary College offers two select entry programs beginning at Year 7.
Students who show high academic aptitude and have high academic aspirations are particularly suited to our High Achiever Program (HAP). HAP is an enrichment program designed to foster 21st Century leaners, with a focus on inquiry-based learning, collaboration, critical thinking and creativity.
Our students follow the Victorian Curriculum guidelines, however, work presented is more intellectually challenging, allowing students to demonstrate skills at a level 6 to 12 months, where possible, beyond the expected level for their age.
The Performing Arts Masterclass (PAM) provides students with the opportunity to be part of an Academic and Performing Arts Masterclass program. The College has a strong music, dance and drama program, and aims to engage student interest allowing every child to showcase skills in these areas. Students in the program will have additional opportunities and excursions relating to the performing arts field, and the ability to engage in a number of curricular and extra-curricular activities related to their particular passion area.
All students are expected to maintain a balance between their academic studies and Preforming Arts commitments.
Applications open in March each academic year. The PAM and HAP handbooks are available from the College or alternatively on the College website.
Pathways
The College has implemented the Victorian Curriculum, students in Years 7, 8, 9 and 10 complete studies in Mathematics, English, Science, LOTE – Chinese, Humanities, Health and PE, Sport, Music, Visual Art, Performing Arts and Technology. At Year 9 and 10 students are encouraged to develop areas of interest thought an elective program. VET and Acceleration into VCE studies is an option for selected students at year 10. Year 11 and 12 students are offered a range of pathways either through a VCE, VET or VCAL program with a broad range of senior subjects offered.